When Conor McGregor lost to Khabib, he was exposed by the limelight and has never found his way back to the true darkness that had allowed him to win.
Winning won't accept this version of Conor, because this Conor still thinks and acts like he's winning, and Winning knows he is not.
This loss to Dustin Poirier is about so much more than an injury.
If you've read W1NNING, you get this: he hasn't taken that necessary bus ride back to hell.
Winners know that in order to repeat, they have to get on that bus, along with all their demons and monsters and skeletons asking:
"Now what?"
Conor can't answer them because that bus ride needs to be taken in silence. Winning requires real talk or no talk at all. The only things you hear are the silencing of your heartbeat, and the shortening of your breath as you approach hell.
You have no choice. You can either commit to take the bus ride to hell and fight your way back to Winning, or hell will come for you anyway, snatch your heart out of your chest and make you watch it stop as you take your last breath and you lose forever.
That's the difference between taking yourself to hell, and hell taking you. One you can control. The other, you are done.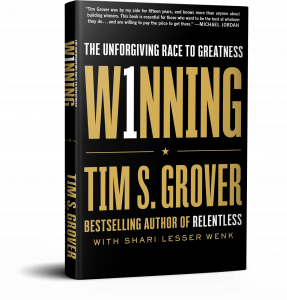 More in W1NNING. READ IT.
CLICK HERE TO ORDER W1NNING