For more than two decades, Tim Grover has been the ultimate resource for the world's greatest athletes. Legendary for his revolutionary approach to developing strength, explosiveness, agility, speed, longevity, and above all, elite performance, Tim's success can be defined in one word: RESULTS.
With a global staff of experts in cutting-edge physical therapy, sports medicine, nutrition, massage therapy, and vast resources in all areas of elite performance, Tim's world-renowned work in injury rehabilitation focuses on aggressive and effective treatment designed to return athletes to the game, physically and mentally ready to play. "When we bring you back, you won't be as good as you were," Tim tells his clients, "you'll be better than ever."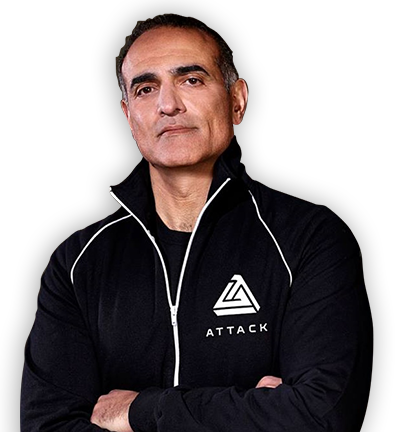 1989

Michael Jordan was my first pro client, in 1989. He gave me 30 days, and it turned into 15 years. The G.O.A.T. No discussion.

1990

Scottie Pippen could do it all. A charter member of the invite-only Breakfast Club, his relentless work off the court contributed to his greatness on the court.

1992

Charles Barkley hated every minute of training, but knew it wasn't an option and loved the end result. A great player and an even greater person.

1994

They called him Hakeem 'The Dream' Olajuwon, but to other teams he was the Nigerian Nightmare. His footwork let him dance in his workouts the same way he danced on his opponents.

2005

From pre-draft to Olympic gold medals to NBA Championships, Dwyane Wade used his setbacks to propel him to greatness.

2007

Kobe Bryant was about action, not words. I knew what he expected of me and he knew what I expected of him. All about the results.

2009

Worked with Tracy McGrady after his microfracture surgery, Few knew the extent of his injury and the work required to come back. Most would have quit. Now he's a Hall-of-Famer.

2016

Like all great leaders, Jason Heyward understood it's not about what you do in the pre-season, it's about the work you do ALL season.

2017

The first step to change is a commitment to change, both physically and mentally. Justin Upton adapted to the ATTACK method of training and got the results he was seeking.
"I consider Tim Grover to be second to none…an invaluable part of my training program."
Michael Jordan
"Tim Grover is the master of mental toughness, the blueprint for discovering what you are capable of achieving, getting results you never imagined, reaching the highest level of success--and then going even higher."
Kobe Bryant
"Most people can't handle the truth that Tim speaks. For those who can, his message will unlock your inner beast, and create the relentless drive to dominate your marketplace, your industry and anyone who dares to consider themselves your competitor."
Grant Cardone
CEO 10X
"Our conference included widely known names in the speaker field (Tony Robbins, Peter Diamandis, Jay Abraham). It is a major compliment to Tim that at our executive debrief he was unanimously awarded the 'greatest fit' for the impact and relevance of his message. It is without reservation and with my highest regard that I recommend Tim Grover as a speaker for any audience that is ready to take themselves to the next level."
Gene Lunger
Executive Vice President, Ashley Furniture Industries
"Tim's presentation was truly 'unstoppable.' He connected with our group and demonstrated that hard work and commitment is what takes you from good to great to unstoppable."
Kent Taylor
Founder/CEO Texas Roadhouse
"Tim Grover's insight into leadership and excellence has taken the greats to the top, and he will do the same for you."
Mike "Coach K" Krzyzewski
"Tim Grover is a "cleaner" who walks the talk. His talk to our sales teams has made a difference. We now use the term "cleaner" as a goal for all our players to aspire to."
Scott Scherr
CEO Ultimate Software, Inc.