An excerpt from W1NNING: The Unforgiving Race to Greatness:
One week before my friend and client Kobe Bryant died in a helicopter crash, we spoke on the phone for the last time.
We hadn't talked in a while, and neither of us apologized for not being in touch more often. We'd send an occasional text just to check in. He was busy. I was busy. All good.
We'd have plenty of time to catch up soon.
Since the end of his basketball career in 2016, Kobe actually seemed busier than he'd been as a player. He may not have been in the gym at 4 a.m. putting up shots as he did for the many years we worked together, but he was still working on new endeavors and obsessions during those dark lonely hours that haunt every true competitor. He'd already won an Oscar, launched a series of bestselling children's books, created several television productions, and was traveling to coach his daughter Gianna's basketball team when the chopper crashed and they were both tragically killed, along with seven others. He hadn't slowed down at all; he was still driven to achieve more and more.
"Rest at the end," he would say, "not in the middle."
During the 2009 NBA Finals, a reporter asked him why he didn't look happy after his Lakers took a two game lead over the Orlando Magic. Kobe gave him that iconic Mamba glare, and said: "Job not finished."
Three words that summed up everything about him.
On that last phone call, we talked for a while, and made plans to get together at the upcoming All-Star game in Chicago. That meeting would never happen.
Our conversation ended like this:
"You good?" I asked.
"Yeah, I'm good. Always chasing that win. Never done."
I hear those words over and over.
Always chasing that win.
Never done.
Kobe's life was a series of wins, fueled by his insatiable hunger to succeed. The more you told him it couldn't be done, the more he wanted to do it. He had to know why, when, how much, how long… every detail mattered to him. He couldn't just take a bike ride, he had to ride in the desert, at the hottest time of day, just to prove to himself that he could. He never just watched film, he broke it down frame by frame analyzing every movement, every variation. He played with a concussion in an All-Star game (unbeknownst to anyone else) to see how it would feel. He didn't just call his friend and idol Michael Jordan to ask what's up, he called him in the middle of the night, asking questions and looking for ways to become .0001 percent better. Everything he did, in basketball and in life, was about his desire to win.
As an athlete, a father, a creator, a dreamer of what could be next, he looked Winning in the eye over and over, and demanded more. More success, more victories, more accolades, more time with his family.
More time to run his race to greatness.
Winning doesn't apologize, and it doesn't explain. It throws a party in your honor, refuses to give you the place and time, and sticks you with the check. It pours your champagne, and knocks over the glass.
You reach out to shake its hand, and it has no idea who you are.
Winning puts you on the biggest stage. And shuts off all the lights.
In my thirty-plus years of working with the greatest competitors of our time, from Michael Jordan and Kobe and Dwyane Wade and Charles Barkley and countless others, to CEOs and elite achievers in all walks of life, I've seen Winning in all its glorious generosity, and all its excruciating cruelty. One day it wears a halo. The next day it has fangs.
You don't get to decide which it will be.
You can only chase it, and if you're willing to pay the price, you might catch it. Briefly.
---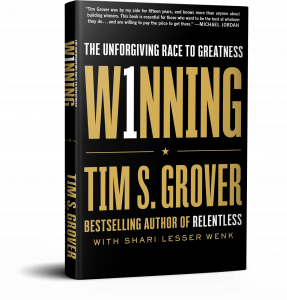 CLICK HERE TO PRE-ORDER W1NNING AND JOIN ME FOR A LIVE ONLINE EVENT MAY 17TH.